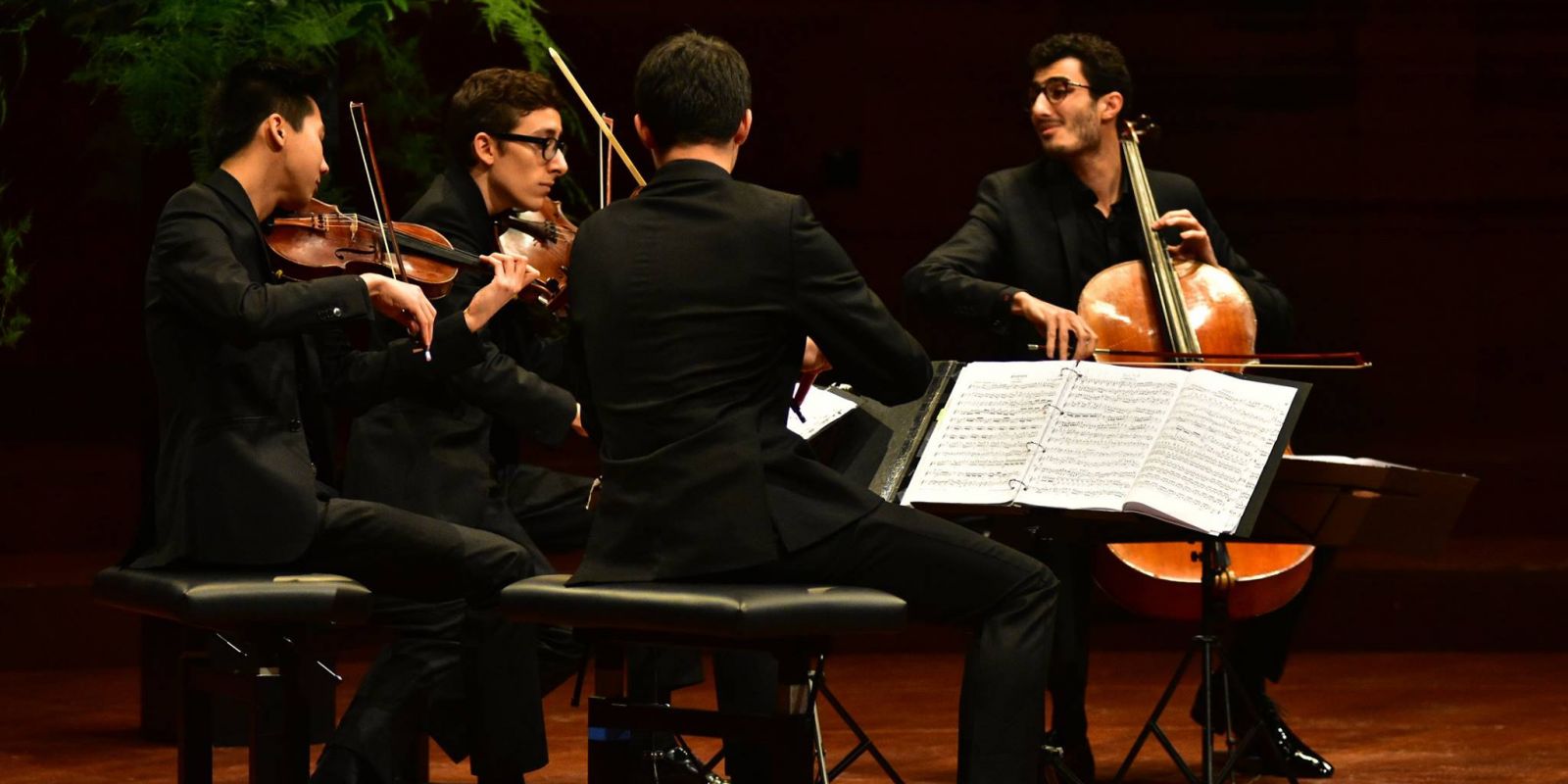 Intense Music, Intense Competition
If you were watching four years ago, when the Arod Quartet won the string category of the Carl Nielsen International Chamber Music Competition, the chances are you won't have forgotten it.
Those four musicians from France proved they had something special from the first day. Then, like athletes at a grand slam, they got better and better as the competition went on. When it really mattered, at the competition finale, they produced some of the most nuanced and electrifying quartet playing you could hope to hear. 'I would certainly give up a night – even change my plans – to hear them play again,' said Clive Greensmith, cellist of the renowned Tokyo String Quartet, shortly after the Arod's winning performance.
Four years later, the Arod Quartet has graduated from the BBC's New Generation Artists scheme and signed a major album deal. 'They deliver what must surely be one of the most intense, detailed and passionate accounts of the Mendelssohn's A minor Quartet ever recorded,' wrote BBC Music Magazine's critic after their debut recording for Warner Classics.
On 15 October in Copenhagen, we start the search for new set of champions – both string quartets and wind quintets. What can we expect? At the very least, fine performances courtesy of outstanding young ensembles from Vienna, Berlin, Paris, Madrid, London, Leipzig and here in Copenhagen.
But we'll also hear the sound of a competition – thrills, spills, drama and intrigue. 2015 reminded us that, no matter how accomplished and communicative an ensemble is, winning takes something more: determination and nerve, composure and flair, a certain amount of strategy and a steady crescendo over the course of five days that ensures you don't peak too early. That's what makes international competitions like this so great to watch.
There will be some splendid music along the way. From both strings and winds, we will hear works thrusting with virtuosity (Paul Hindemith, Vagn Holmboe), filled with exuberance (Jørgen Jersild, Carl Nielsen), sharp edged and playful (György Ligeti, Dmitri Shostakovich) and bursting with colour (Arnold Schoenberg, Kalevi Aho).
Of course, we will hear from the composer who pretty much created the string quartet with works of unprecedented depth and charm (Joseph Haydn) and his equivalent in the domain of the wind quintet (Franz Danzi). We will also hear new works come to life, created especially for the competition by Danish composers Esben Nordborg Møller and Matias Vestergård Hansen.
On 19 October, new quintets and quartets will be crowned Carl Nielsen Competition victors. Like the Arod Quartet, their victory may well take them on to international acclaim. We may even get to see the next great wind quintet or string quartet before it hits the world stage.
Either way, everything will be at stake. These young musicians, must prove their worth while remaining true to themselves. They have already beaten some fine ensembles to get here. But the best ensembles already know, that from 15 October, only special performances will do.
It may be stressful for them, but it will be compelling viewing for us – whether watching live here in Copenhagen, or following every note via live stream or radio.